Meet The Doll Doctor

I have had many jobs, but being a doll doctor is the work I love best. My name is Rubie M. Schroeder/Wallace, and I have been restoring and costuming dolls most of my life. For many years, I have been a school teacher and worked on dolls part-time. Since I retired from teaching, I have been working on doll repair and doll restoration full time. I will be adding full lines of doll outfits as I can.
I was recently married to a wonderful man and have changed my name from Schroeder to Wallace.
I first fell in love with the old dolls when I was about 6 years old. My grandmother would take me with her when she went to help out or visit her older friends. I was a quiet child and they would let me hold their large old bisque Kewpies, and German dolls from their childhood. Then my Grandmother showed me her Simon Halbig baby and promised him to me when I grew up. He is still my favorite doll and has a full layette that Grandma and Great-Grandma made for him.
One year when I was a little girl, I traded my new Christmas doll for a friend's old Patsyette. We each thought we got the better deal. I wanted to fix her up, but I wasn't a doll doctor yet! Then Grandpa bought me my first Ginny doll and Grandma began to teach me to sew. We spent many wonderful hours making doll clothes. By the time I was 13 years old, I was making all my own clothes and had begun to sew for other people. Now I mostly sew for dolls. Some of my favorite dolls are still the Effanbee Patsy Dolls.
I have been professionally restoring and costuming dolls for over 35 years. As a doll doctor and in my private collection, I have worked on many wonderful dolls. I also have a background in art, and Speech/Theater, and have done costuming for the stage .
I quit teaching this year to go into doll repair full time. In past years I have taught grades K-3rd; technology applications in the computer lab; and art grades PK-6th.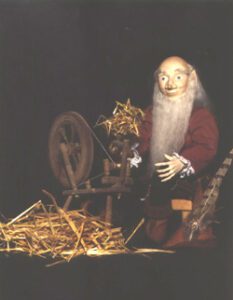 I had a porcelain doll studio and taught porcelain doll making for about 10 years, along with being a doll doctor. My students and I won many awards in competition during that time. I still occasionally make all bisque antique reproduction dolls to sell online and at doll shows.
Also during that time, I won both the Seeley's Rolf Erickson Award for original doll sculpture, with my Rumpelstiltskin, and Seeley's Millie Award for antique reproductions with my Heubach sisters. I made a limited edition of 25 Rumpelstiltskins, but didn't sell all of them before I closed my doll studio. Someday I would like to dust off the molds and complete the edition.
Doll makers, costumers, and doll restoration artists are spread all over the world. Although we get together for conventions and shows it is so nice to have someone to share with in-between those times. I belong to several online boards and enjoy chatting with other doll lovers.